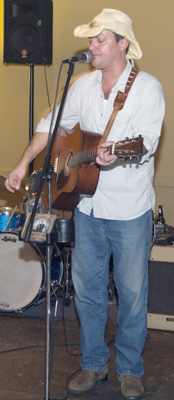 Matt "MF" Tyner got his first guitar at age 16 and has been playing ever since.
Self taught, he found his influence in a wide range of musical genres from the blues to 60's rock and cut his performance teeth with cover jam-bands Cottonmouth and Shaggy's Choice in Chicago in 1987 and 88. Matt moved to Milwaukee in 1990 and played with rock band Silence in Eden until 1993.
Traveling and playing over the next 12 years, Matt honed his skills deepening his appreciation for the Delta blues, rockabilly, honky tonk and roots rock. Matt soon found a niche in the Milwaukee area performing solo and duo acts with his unique style of singing; performing covers, instrumentals and originals as well as steel guitar.
Matt released his first CD in 2006 "Six One Half Dozen The Other" featuring 6 original and 6 covers.